SALT SPRAY, HUMIDITY, AND CYCLIC EXPOSURE TO MANUFACTURER AND ASTM STANDARDS
Salt spray testing is a useful predictor of performance under real world conditions. While there is no direct correlation between chamber time and years of exposure, simulating corrosive conditions will provide insight into the future lifespan of your goods and materials.
IMR's corrosion testing lab performs a variety of tests designed to simulate the effects of various environmental conditions on raw materials, components and finished products.
We are equipped with chambers to perform salt spray testing (e.g. ASTM B117), cyclic corrosion, humidity testing, SO2/CO2 and much more (see list below for more details).  IMR's corrosion lab also offers the additional services you need to meet your qualification packages, such as wet tape adhesion, taber abrasion, photography and visual inspections.
If you're interested in exploring IMR's corrosion testing capabilities, click here to request a quote, or click on the button below..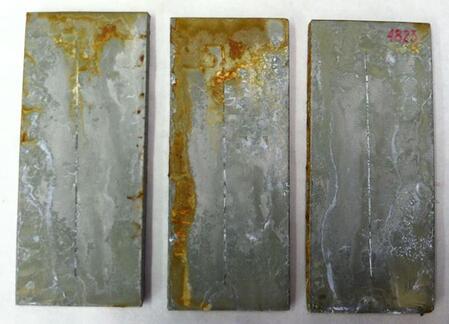 RELATED SALT SPRAY TESTING METHODS
Acetic Acid
CASS Testing
Chemical Passivation Treatments for Stainless Steel Parts
CO2 / SO2 Exposure
Condensing (Relative Humidity 100%)
Conversion Coatings
Cyclic Corrosion Testing
Electrical Resistivity Testing
Humidity (Relative Humidity 95%)
Moist Poultice / Cataplasm Testing
Passivation Testing of Stainless Steel
QUV Exposure / UV Exposure
Salt Spray Testing
SO2 Exposure
Temperature & Humidity Testing
Water Fog Testing
ASTM A967/A967M
ASTM B117
ASTM D1735
ASTM D610
ASTM D2247
ASTM G34 GMW14872
ASTM G48
ASTM G85
ASTM G87
ASTM G154
ASTM G2700
DIN 50 021
GMW14872
ISO 9227
MIL-DTL-5541
MIL-DTL-81706
NASM 1312-3
QQ-P-416
Click here for a complete list of accreditations and certifications for all IMR Test Labs locations.