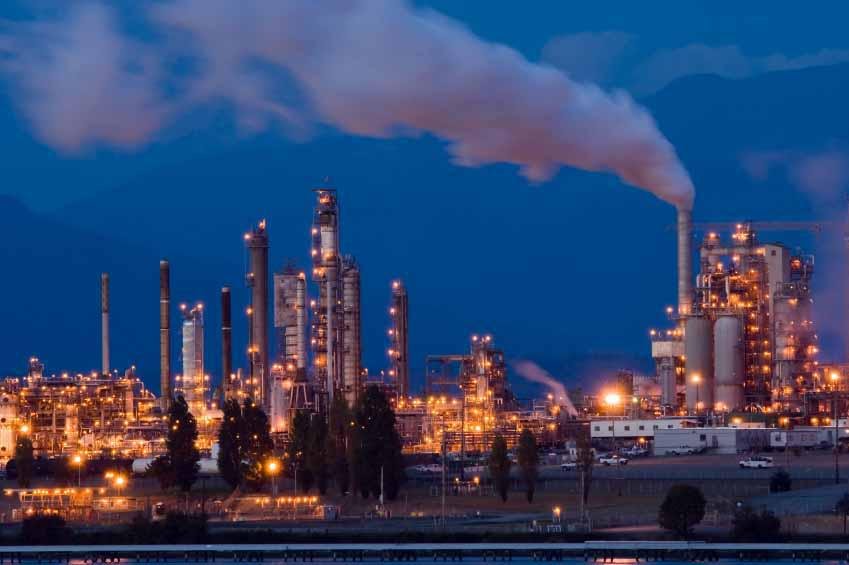 IMR's Oil and Gas Testing Laboratory provides pipeline operators and energy providers with the analysis of the materials they use to transport valuable and potentially dangerous substances.  
The potential for dramatic and costly pipeline failures continues to be a top concern for pipeline integrity-375 regulatory agencies, pipeline operators, and energy providers. In 2017, the Pipeline and Hazardous Materials Safety Administration (PHMSA) issued a final rule that mandates several preventative and documentation processes designed to standardize the measurement, testing, and assessment of pipeline inspection procedures.
OIL & GAS TESTING METHODS
Oil and gas materials benefit from chemical analysis tests such as chromatography, spectroscopy, qualitative analysis, gravimetric analysis, quantitative chemical analysis, and many others.  Tests are performed on many materials, including process solutions and coatings, powders, polymers, and metals.  
Metallurgical testing ensures materials meet the required specifications for intended use with oil and gas by evaluating defects, structural features, alloy identification, and heat-treating effects.  
Mechanical testing for oil and gas materials determines the physical make-up of material and identifies its physical properties, including hardness, corrosion resistance, performance under applied stresses, bonds to other materials, and more.  
Oil and gas industry failure analysis provide insight into the probable causes of failure, with a close look at contributing factors through the analysis of materials and environmental conditions to prevent reoccurrence in the future.  
IMR's corrosion experts can identify corrodents and other variables that are responsible for corrosion attack. We have a history of addressing complicated corrosion issues, including stress corrosion cracking, dezincification, pitting corrosion and many other mechanisms.
Pipeline integrity is paramount in the oil and gas industry, and IMR Test Labs performs testing to standards of 49CFR, Part 192, which correlates particularly to High Consequence Areas (HCA).  Learn more. 
OIL & GAS TESTING LABORATORY- SERVICES
Accelerated Weathering
Chemical Exposure Testing
Chemical Resistance Testing
Cyclic Corrosion
Dezincification
Electrochemical Corrosion Simulation
Environmentally Assisted Cracking (EAC)
Heat & Fluid Aging
Mercurous Nitrate Testing
Salt Spray Testing
SO 2 Exposure
SO 2/CO2 Exposure
Stress Corrosion Cracking (SCC)
Temperature & Humidity Cycling
OIL & GAS TESTING LABORATORY- LOCATIONS
With AWS CWIs at all US locations, we can provide weld qualification and testing packages to meet your needs. IMR has the mechanical, chemistry, and metallurgical expertise to help operators apply the test data to decisions about future pipeline maintenance plans.  
Our clear, concise reports contain the critical analyses to ensure compliance with 49CFR, Part 192- the requirement that operators have full knowledge of assets operating in High Consequence Areas (HCA).
Our facilities provide extensive coatings evaluation services, including adhesion, coating shear fatigue, corrosion simulation, and metallurgical evaluations.  
IMR Test Labs-Louisville is a well-equipped and experienced pipeline materials testing center.  We've helped numerous regional, national, and international petrochemical production and transmission companies answer questions about pipeline material properties.
For more information on testing your pipeline assets to be in compliance with the PHMSA, click here.
OIL & GAS TESTING LABORATORY- RESEARCH & DEVELOPMENT
IMR Test Labs have the expert staff and knowledge to provide material verification and R&D testing for metals, polymers, coatings, and contaminants. We have earned a wide range of accreditations, and our quality system has passed some of the most stringent audits.  All of our labs operate under the same strict quality system to ensure that the results you get are accurate, as well as fast.
OIL & GAS TESTING LABORATORY- PIPELINE TYPES
Gathering
Feeder
Transmission
Distribution
Flow
NATURAL GAS PIPELINE- TYPES TESTED
High-Density Polyethelene

Medium Density Polyethelene
PETROLEUM OIL PIPE- TYPES TESTED
Material - polymer, polyethylene, steel, copper

Pressure - 200 - 1,200 psi

Size -outside diameter range  .75" - 42"

Flow - 32 gallons per minute

Application - direct burial, above ground, subsea above or below sand
OIL & GAS PIPELINE COMPONENTS- TYPES TESTED
Couplings

Flanges

Mechanical Adapters

Flow Meters

Elbows

Tees

Wyes

Reducers

Caps

Compression Fittings

Nipples

Bushings

Unions