POWDER ANALYSIS OF ALUMINUM, TITANIUM, NICKEL, COBALT, COPPER, IRON ALLOYS, AND CERAMIC , MINERAL POWDERS
Powder characterization analysis provides critical data for additive manufacturers to evaluate metal and ceramic powder properties such as flow, morphology, particle size distribution, density, and chemical composition.
Material Verification – by ICP and ICP-MS analytical methods.
Microtrac Laser Diffraction - The microtrac particle size analyzer is an instrument which uses laser light diffraction to determine a particle size distribution.
Sieve Analysis – Sieve analysis is a gravimetric analysis of particle size.
Flow Rate (Hall/Carney) – The test gives a representation of the flow-ability of the powder.
Apparent Density (Hall/Carney) –The apparent density is determined as mass of the powder per unit of volume (g/cm3)
Tap Density (packed density) – Tap density is determined and expressed in mass of powder per unit of volume (g/cm3).
Helium Pycnometry (skeletal density) – The pycnometer determines the total displaced volume of the powder.
Click the button below to begin planning a powder characterization analysis program to provide the right answers, on time, or request a quote.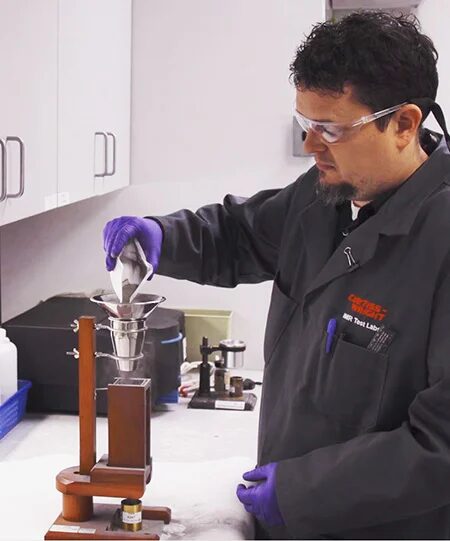 Click here for a complete list of accreditations and certifications for all IMR Test Labs locations.