Mechanical Fatigue Testing Lab Services
FATIGUE TESTING USING AXIAL, SHEAR, ROTATING BEAM, ELEVATED TEMPERATURE HCF/LCF TESTING
Our Mechanical Fatigue Testing Lab utilizes cyclic loading (HCF-LCF) to predict the life of materials under fluctuating loads and temperatures. Determining fatigue life can support R&D efforts for new materials as well as prevent failures and recalls when used to ensure material properties.
Understanding a materials fatigue life is critical in a wide range of industries such as Aerospace, Medical Device and Oil & Gas to ensure safety and reliability as well as determine the longevity of a part or product.
IMR performs fatigue testing on:
Metals
Nonmetallic/Metallic hybrid materials
Finished products
Fatigue testing methods help manufacturers evaluate and validate characteristics of candidate materials. We have various frames designed to handle a wide range of loads and samples.
To find out more about IMR's fatigue testing capabilities, click here to request a quote, or click on the button below.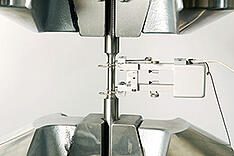 Axial testing methods help characterize mechanical properties of materials, both in static and dynamic conditions. The fatigue resistance measurement of materials subjected to direct stress for relatively large numbers of cycles  measures material characteristics  of axial  loading profiles.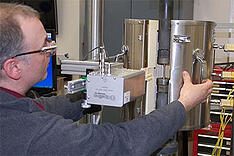 High-temperature fatigue testing analyzes materials engineered to perform in a wide range of temperature operating environments. Various alloys and composites are used in both aerospace and power generation applications, while  experiencing operation environments with extreme temperatures.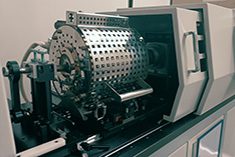 The Rotating Beam test system uses a motor to rotate a shaft or a test specimen around its longitudinal axis. The specimen may be mounted either as a simply supported beam or as a cantilever. The resulting bending movement induces alternating tensile and compressive stresses of equal magnitude.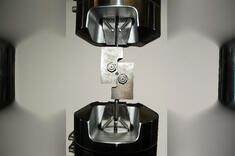 Shear Fatigue testing is performed on modern orthopedic and implant devices, which often incorporate porous coatings designed to promote bone infiltration for proper fixation of the implant. These critical coatings are subjected to shear stresses in normal use and the coating must not shear off under stresses.
MECHANICAL FATIGUE TESTING METHODS
Indentation Toughness
Interlaminar Shear
Jominy Hardenability
Lap Shear Testing
Machining & Specimen Preparation
Materialography
Modulus of Rupture (MOR)
n-Value (Strain Hardening Exponent)
Open Hole Tension and Compression
Pipeline Integrity Testing
r-Value (Plastic Strain Ratio)
Residual Strength of Composites After Impact
Rotating Beam Fatigue 
Shear Testing of Rivets to ASTM B565, Single/Double
Short Beam Strength
Shot Peen Qualification
Single-Edged Notched beams (SENB)
Slow Strain Rate (G129)
Specimen Conditioning
Strain Gaging
Surface Roughness (ANSI/ASME B46.1)
T Peel Strength
Tear Resistance of Films & Sheeting
Tear - Rubbers & Elastomers
Tensile Testing
Torsional and Axial Fatigue (200 lb)
Tube Testing (Tensile, Flare, Hydrostatic)
Welder & Procedure Qualification
Wire/Spring Testing (Wrap, Coil, Bend)
Young's, Tangent and Chord Modulus (Room Temperature)
Click here for a complete list of accreditations and certifications for all IMR Test Labs locations.