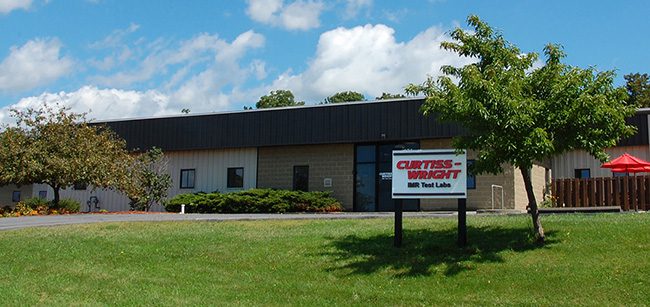 IMR's Test Labs in Lansing, NY is the headquarters, technical lead and a training center for IMR Test Labs. Founded in 1998, IMR Test Labs original facility has undergone numerous expansions to meet the world's growing need for high-quality, accredited materials testing. We have added staff, test methods, equipment, accreditations and entire labs, all with the goal of getting you the answers you need, on time.
Located just outside of Ithaca, NY, we offer a broad range of testing. We analyze metals, polymers, composites, coatings, solutions and much more. From routine chemistry, mechanical testing and metallurgical evaluations, to complex cleanliness or fatigue test plans and failure analyses, IMR should be your first choice in materials testing.
We have earned a wide range of accreditations, including Nadcap and A2LA (ISO/IEC 17025), as well as approvals from many major manufacturers in the Aerospace, Energy, Automotive, Medical Device, Oil & Gas and other high-technology industries.
We also have a training room and offer a variety of advanced metallurgical courses. To learn more about IMR's course schedule, visit our training page. We offer classes in our New York, Kentucky and Singapore labs.
Click here for test request forms that can be faxed, emailed or included when you ship your samples for testing. Be sure to mark if a quote or rush is needed.
Contact us today or learn more about the Ithaca labs' capabilities below. We look forward to working with you!
Alloy Chemistry
Chemical Resistance Testing
Cleanliness Testing
Coating Weight
Contaminant Analysis
Density of Powdered Metals
DSC Analysis (Melting Point, Glass Transition, % Crystallinity, Degree of Cure, Purity)
Elemental Analysis
Filler Content Analysis
FTIR Analysis
Halogen Analysis
Hazardous Substances/Heavy Metals
ICP-AES Analysis
ICP-MS Analysis
Ion Chromatography
Ionic Contamination
Metallic Material Verification
O, C, S, N & H
OES Analysis
On-Site Positive Material ID (PMI)
Particle Size Analysis
Polymer Testing
Rare Earth Elements
SEM/EDS
TGA
Trace Element Analysis
XRF Chemical Analysis
Bend Testing
Adhesion (Peel) Testing
Bond Strength Testing
Charpy Impact Testing
Climbing Drum Adhesion
Coating Adhesion
Coating Shear Fatigue
Coefficient of Thermal Expansion by TMA
Composite Testing (Fiber Reinforced)
Compression Testing
Compressive Properties
Creep and Stress Rupture Testing
Fatigue Testing
Flattening
Flat-wise Tensile Testing
Flexural Properties
Fracture Mechanics
Gloss Testing (ASTM D523)
Hardness (Rockwell, Brinell, Durometer, Shore, Barcol)
Heat Aging
Heat Deflection by TMA
Heat Treatment (furnace to 2100°F)
Interlaminar Shear
IZOD Impact Testing
Lap Shear Testing
Residual Strength of Composites After Impact
Slow Strain Rate (G129)
Specimen Conditioning
Tensile Testing
Tube Testing (Tensile, Flare, Hydrostatic)
Weld Testing
Wire/Spring Testing (Wrap, Coil, Bend)
Case Depth
Certified Weld Inspections
Coatings Analysis
Decarburization
Failure Analysis
Fractography
Fracture Mechanics
Grain Size
Inclusion Rating
Intergranular Attack
Intergranular Oxidation
Litigation Support
Machining Evaluations
Microhardness (Knoop, Vickers, Macro Vickers)
Microstructure
Particle Analysis (Distribution, ID, Size)
Plating & Coating Analysis
Plating Thickness
Porosity of Metals, Ceramics, Polymers & Composites
Prior Austenitic Grain Boundary Determination
Quick Turn Failure Analysis
Root Cause Investigation
SEM Analysis
Surface Topography
Thermal Spray Coating Analysis
Titanium Beta Transus Determination
Procedure & Welder Qualification
Stress Corrosion Cracking (SCC)
Environmental Stress Corrosion (ESC)
Corrosion Failure Analysis
Dezincification Testing
Electrochemical Corrosion Simulation
Evaluation of Duplex Stainless Steels
Formicary (Ant's Nest) Corrosion
General and Pitting Corrosion Testing
Heat & Fluid Aging
Passivation Testing of Medical Components
Residual and Assembly Stress Testing of Copper Alloys
Sensitization Testing of Austenitic and Ferritic Stainless Steels
Cyclic Corrosion
Electrical Resistivity Testing
QUV Exposure
Salt Spray Testing
SO2 and SO2/CO2 Exposure
Taber Abrasion/Wear Resistance
Temperature & Humidity Testing