Flexural Testing Services for Polymers, Composites, and Plastics
FLEXURAL TESTING MEASURES BEND PROPERTIES OF NONMETALLIC MATERIALS
IMR's Flexural Testing Lab performs bend testing, sometimes called flexure testing, to measure the behavior of materials subjected to simple beam loading. It is commonly performed on materials such as polymers, and composites.
IMR has a variety of 3 point and 4 point bend fixtures, allowing for specimens of all sizes.  The three-point bending flexural test provides values for the modulus of elasticity, and the flexural stress–strain response of the material. As the specimen bends or flexes, it is subjected to a complex combination of forces including tension, compression, and shear. Bend testing is commonly used to evaluate the reaction of materials to realistic loading situations. Flexural test data is critical when a material is to be used as a support structure.
If you're interested in exploring IMR's flexural testing capabilities, click here to request a quote, or click on the button below.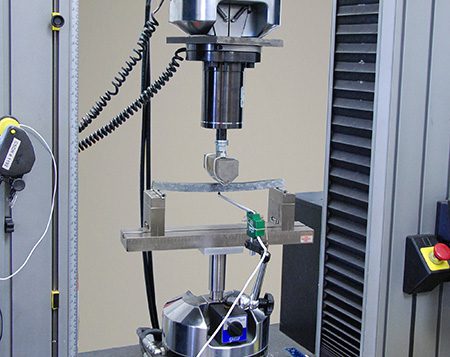 MECHANICAL TESTING METHODS
Indentation Toughness
Interlaminar Shear
Jominy Hardenability
Lap Shear Testing
Machining & Specimen Preparation
Materialography
Modulus of Rupture (MOR)
n-Value (Strain Hardening Exponent)
Open Hole Tension and Compression
Pipeline Integrity Testing
r-Value (Plastic Strain Ratio)
Residual Strength of Composites After Impact
Rotating Beam Fatigue 
Shear Testing of Rivets to ASTM B565, Single/Double
Short Beam Strength
Shot Peen Qualification
Single-Edged Notched beams (SENB)
Slow Strain Rate (G129)
Specimen Conditioning
Strain Gaging
Surface Roughness (ANSI/ASME B46.1)
T Peel Strength
Tear Resistance of Films & Sheeting
Tear - Rubbers & Elastomers
Tensile Testing
Torsional and Axial Fatigue (200 lb)
Tube Testing (Tensile, Flare, Hydrostatic)
Welder & Procedure Qualification
Wire/Spring Testing (Wrap, Coil, Bend)
Young's, Tangent and Chord Modulus (Room Temperature)
RELATED FLEXURAL STRENGTH TESTING STANDARDS
ASTM D 2344 (short beam shear)
ASTM D 790
ASTM C 393 Sandwich flex
ASTM D 7264 (PMC flex)
Click here for a complete list of accreditations and certifications for all IMR Test Labs locations.