XRD | X-RAY Powder Diffraction
Analysis Services
XRD ANALYSIS OF CRYSTALLINE POWDERS FOR MATERIAL ID AND PURITY
XRD Analysis is an analytical technique designed to provide more in-depth information about crystalline compounds, including identification and quantification of the morphology of crystalline phases. This is a useful tool when trying to positively identify a contaminant or corrosion product, and for identification of foreign phases for purity analyses of crystalline powders.
In XRD analysis, a focused X-Ray beam is shot at the sample at a specific angle of incidence. The X-Rays deflect or "diffract" in various ways depending on the crystal structure (inter-atomic distances) of the sample. The locations (angles) and intensities of the diffracted X-Rays are measured.
Request a quote, or click on the button below to discover more information on IMR's XRD capabilities.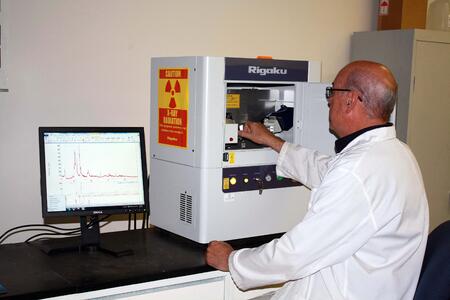 XRD ANALYSIS APPLICATIONS
A primary use for XRD analysis is the identification of crystalline phases for a large variety of powders and thin-film samples. This includes the analysis of corrosion products, ceramics, clays, oxide or nitride coatings and many others.
Because the technique is structure based, XRD can differentiate between compounds with the same elements, yet different properties such as Fe2O3 and Fe3O4.
Often the approximate concentrations of each crystalline phase can be determined as well.
Confirmation of Material Properties, for example:
Analysis of production hydroxyapatite to verify Calcium:Phosphorus ratio as well as a comparison of the percent HA, Beta-tricalcium phosphate and Calcium oxide
Verification of lattice constants in palladium based catalyst materials
Determining percentage of material in crystalline form versus amorphous (% crystallinity)
Reverse engineering and competitive analysis
Determining crystallite size for polycrystalline films and materials
Alpha Tricalcium Phosphate
Beta Tricalcium Phosphate
Calcium Oxide
Carbides
Ceramics
Contaminants
Corrosion Products
Glass
Hydroxyapatite
Nitrides
Oxides
Tetracalcium Phosphate
Thin Films
...and more
Click here for a complete list of accreditations and certifications for all IMR Test Labs locations.