Electrochemical Corrosion Testing Services
ELECTROCHEMICAL CORROSION TESTING TO ASSESS CORROSION SUSCEPTABILITY
IMR's electrochemical corrosion lab in Ithaca, NY performs testing on candidate materials, passivation effects, and galvanic corrosion on bi-metal combinations, primarily in the medical device industry. For service environments where standard pass/fail exposure testing is insufficient, electrochemical corrosion testing offers a more advanced analysis.
Testing is performed through a controlled electrochemical reaction between two materials, or between an exposed surface and its surrounding environment.  The introduction of a voltage current to the testing setup rapidly accelerates the effect of the test solution on the material. Therefore, targeted electrolyte solutions can be used to simulate long-term conditions and predict and characterize the corrosive properties of metal materials and components.
APPLICATIONS FOR ELECTROCHEMICAL TESTING
Analysis of finished medical devices for pitting and crevice corrosion susceptibility
Comparison of raw materials (screening) for corrosion characteristics
Evaluating effects of passivation or surface modifications on corrosive behavior
Evaluating/comparing processing effects on corrosion properties
Evaluating bimetal combinations for galvanic corrosion behavior
ELECTROCHEMICAL CORROSION TESTING METHODS
Cyclic Potentiodynamic Polarization Measurements (ASTM F2129)
Cyclic Potentiodynamic Polarization
Corrosion Susceptibility of Iron, Nickel, Cobalt Alloys (G61)
Galvanic Corrosion (ASTM G71)
Galvanic Corrosion of Medical Implants (F3044)
Linear Polarization Resistance (ASTM G59)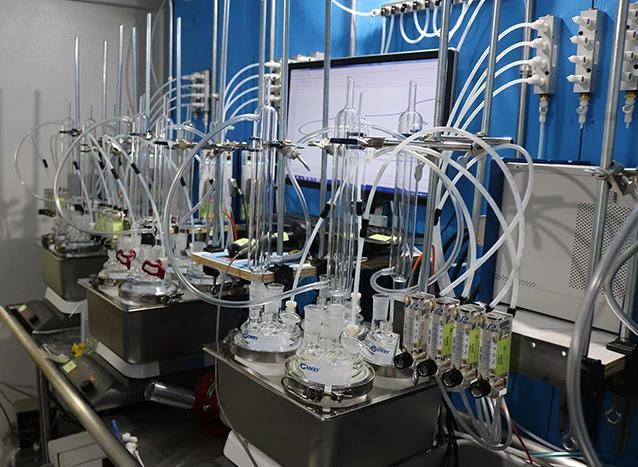 Corrosion Failure Analysis
Dezincification Testing
Electrochemical Corrosion Testing
Environmental Stress Cracking (ESC)
Formicary (Ant's Nest) Corrosion Evaluation
General and Pitting Corrosion Testing
Heat & Fluid Aging
Mercurous Nitrate Testing
Passivation Testing of Medical Components
Potentiodynamic Corrosion
Residual and Assembly Stress Testing of Copper Alloys
Sensitization Testing
Stress Corrosion Cracking (SCC)
ASTM G59
ASTM G85
ASTM G59
ASTM G61
ASTM G69
ASTM G71
ASTM G150
Click here for a complete list of accreditations and certifications for all IMR Test Labs locations.