Weld Testing and Welder Certification Services
Weld Testing and welder certification verifies that specified welding procedures will create welds that are suitably strong and satisfy quality standards and/or code requirements. The purpose of qualification is to demonstrate and document that a joining method (or methods) can satisfy all of the design requirements of the finished product.
Welding qualification documents include:
Welding Procedure Specification (WPS) Summarizes all of the welding variables and materials used for many welds
Procedure Qualification Record (PQR) Documents the testing that was performed to qualify a particular procedure within the WPS
Welder Performance Record (WPR) Documents the results of and individual welder or operator to a WPS
IMR has AWS CWI's on staff at all of our US locations, as well as trained and knowledgeable experts at our labs in Asia.  Whether you need analysis on your raw materials such as solder wire, or a full weld qualification packages, we can get you the answers you need.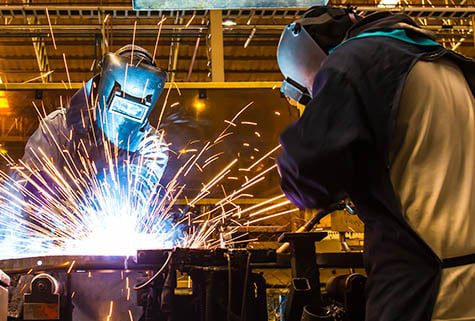 ACCREDITED WELD QUALIFICATION TESTING
ABS Rules for Welding Part 2
AMS STD 1595
API RP 582
API Std. 1104
ASME Section IX
AWS C1.1
AWS C1.4
AWS C7.3
AWS C7.4
AWS D1.1/D1.1M
AWS D1.2/D1.2M
AWS D1.3
AWS D1.4
AWS D1.5/D1.5M
AWS D1.6
AWS D1.7
AWS D17.1/D17.1M
CAAS SAR Chapter 6.5 Appendix 1
CGA-3
City of Portland Weld Inspections
EN 25817
EN 287
GE Weld Qualification
ISO 5817
ISO 15614-1
ISO 13919-1
ISO 15614-11
NAVSEA S9074-AQ-G1B-010/248
SAE AMS-W-6858A
WABO Welder Qualifications
WELDING METHODS WE ANALYZE
Gas Metal Arc Welding (GMAW/MIG)
Gas Tungsten Arc Welding (GTAW/TIG)
Shielded Metal Arc Welding (SMAW)
Flux Cored Arc Welding (FCAW)
Friction welding (FRW)
Friction stir welding (FSW)
Flash welding (FW)
Resistance spot welding (RSW)
Plasma arc welding (PAW)
Laser beam welding (LBW)
Electron Beam Welding (EBW)
Resistance Seam Welding (RSEW)
Brazing Evaluations
Stud Welding