Composites Testing for the Aerospace Industry Ebook
A GUIDE TO COMPOSITES TESTING FOR THE AEROSPACE INDUSTRY
Aerospace manufacturers have relied on the use of composites for more than 40 years to produce lightweight and durable components for airplanes and other vehicles.
Historically, composites supplemented secondary aircraft structures, but recent technological advances enabled their use in primary aircraft structure components including fuselage, wings, doors, nacelles, tail structures, and more.
Manufacturers must always quality test their composites at every step of the process—from design to final product—to ensure that parts and components remain free of damage and compliant with a broad spectrum of industry standards.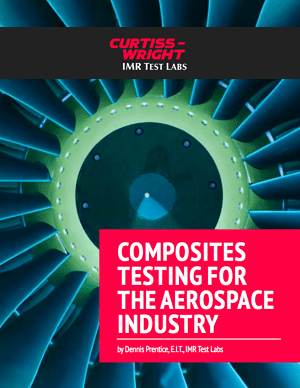 We've put together a comprehensive guide to educate you on everything you need to know about the different composite testing methods in the aerospace industry, including:
Areal Weight Testing
Dynamic Mechanical Analysis (DMA)
Filled-Hole Tension/Compression Testing
Other important details about composite testing
Fill out the form to the right to download our free eBook.