Bond Strength Testing Lab Services
TENSILE TESTING LAB SERVICES FOR POLYMERS, COMPOSITES, AND PLASTICS
IMR's performs tensile testing on polymers and composites in a climate controlled lab to ASTM, ISO and manufacturer specifications. has tensile testing load frame capabilities from 1 lb. up to 27,000 lbs. for mechanical testing, using a wide variety of grips and extensometry. If needed, IMR also has the capabilities to apply strain gages to determine Poisson's ratio.
IMR performs a large variety of physical, mechanical, and chemical testing methods to help manufacturers in the aerospace, transportation, and medical device industries verify material properties for critical applications.
For more information on our polymer testing capabilities, click here to request a quote, or click the button below.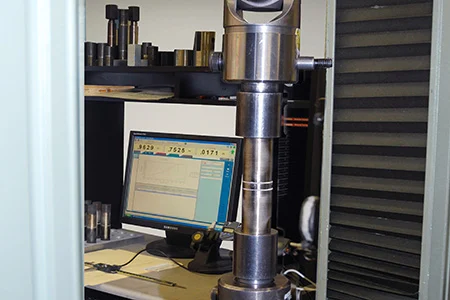 POLYMER CHARACTERIZATION SERVICES
TENSILE TESTING ACCREDITATIONS
ASTM D 3039
ASTM D 638
ASTM D 412
ASTM C 297 (Flatwise tensile)
ASTM D 3518 (±45°shear)
SHEAR TENSILE ACCREDITATIONS
ASTM D 1002 (Lapshear)

ASMT D 5656 (thick adherend lap shear)

ASTM D 3528 (double lap shear)
Click here for a complete list of accreditations and certifications for all IMR Test Labs locations.