IMR Materials Testing Technical Blog

AEROSPACE MATERIALS TESTING LAB SERVICES
Aerospace materials require the highest level of reliability of just about any industry. The risk associated with the failure of key components is beyond measure. Verifying raw materials, analyzing failures, and thoroughly testing new products are critical to maintaining a strong safety record. Aerospace engineers are constantly striving to increase strength while lessening weight in structural materials, engines and systems. IMR's team of metallurgists, chemists, mechanical engineers lab and support personnel are working with the world's biggest and most innovative aerospace OEM's and Tier 1 suppliers from late stage Research & Development to final production.
As a Nadcap approved laboratory, IMR maintains a strict quality system with tight control of all aspects of testing from sample tracking and data management to calibration and test methodology. We also carry accreditations from A2LA/SAC (ISO 17025), Boeing, GE, Pratt & Whitney, All our labs are ITAR registered.
IMR provides analytical services designed to support quality control efforts, as well as the materials and product engineering efforts of many suppliers. IMR also provides overflow testing for many internal labs. These include elemental and chemical analysis, mechanical testing, fatigue testing, plating & coating evaluations, failure analysis, corrosion testing, and much more.
We have extensive experience with reciprocating and turbine engine components and materials, airframe materials (including sealants), and thermal spray coatings. We've recently expanded our testing capacity for high temperature fatigue analysis, replicating operating conditions up to 1800°F. We are knowledgeable about many exotic and specialty alloys and how to prepare them for analysis.
To learn more about our capabilities, check out our resources below, or request a quote today!
---
DOWNLOAD OUR FREE EBOOK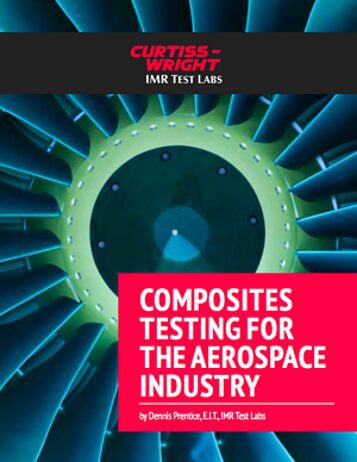 We've put together a comprehensive guide to educate you on everything you need to know about the different composite testing methods in the aerospace industry, including:
– Areal Weight Testing
– Dynamic Mechanical Analysis (DMA)
– Filled-Hole Tension/Compression Testing
– Other important details about composite testing
CLICK HERE TO DOWNLOAD IMR'S "COMPOSITES TESTING FOR THE AEROSPACE INDUSTRY" EBOOK.
---
AEROSPACE TESTING ANALYTICAL SERVICES
Case Depth
Coatings Evaluations
Coating Thickness
Decarburization
Fracture Mechanics
Grain Size Analysis
Inclusion Rating
Intergranular Attack
Machining Evaluations
Microhardness (Knoop, Vickers, Macro Vickers)
Metallography of Coatings
Microstructure 
Oxide Content
Particle Analysis 
Plating & Coating Evaluation 
Porosity
Powder Morphology
Void Content
Polymer & Composite Failure Analysis 
Metallurgical Corrosion Evaluation
Root Cause Analysis
Accelerated Weathering
Cyclic Corrosion Testing
Erosion Testing
Salt Spray Testing
Wear Testing
Alloy Verification
Cleanliness Testing
ICP-AES, OES or XRF Elemental Analysis
ICP-MS Analysis of Trace Elements
Microtrac Particle Size
PMI Testing
Powder Chemistry
Compound Morphology 
Crystal Structure 
Identification of Unknown Powders 
Phase Identification 
Powder Diffraction
Bond Strength 
Coating Adhesion
Creep & Stress Rupture
Erosion Testing
Flexural Properties
Hardness Testing (Brinell, Rockwell)
Hydrogen Embrittlement 
Impact Testing 
Tensile Testing
Taber Abrasion Testing
Weld Examination
Axial Fatigue
Coating Shear Fatigue
Fracture Mechanics
High Temperature
Low/High Cycle Fatigue
Rotating Beam Fatigue (Reverse Bending)
Chemical Exposure Testing
Chemical Resistance
Contaminant Analysis
DSC Analysis (Melting Point, Glass Transition, % Crystallinity)
FTIR Analysis
Material Identification
Nonmetallic Failure Analysis
PHYSICAL PROPERTIES
Coefficient of Thermal Expansion by TMA
Compressive Properties
Hardness (Rockwell, Durometer, Shore, Barcol)
Heat Aging
Impact Testing
Lap Shear Testing
Tensile Testing