IMR Materials Testing Technical Blog
December 17, 2021
|
|
BLOG
Powder Testing to Evaluate Re-Use in Additive Manufacturing
Manufacturers have embraced the reuse of metal powders as a key economic advantage that additive manufacturing (AM) provides. Utilizing high value metal powders like titanium would be unfeasible unless the reused feedstock can provide an adequate number of build series.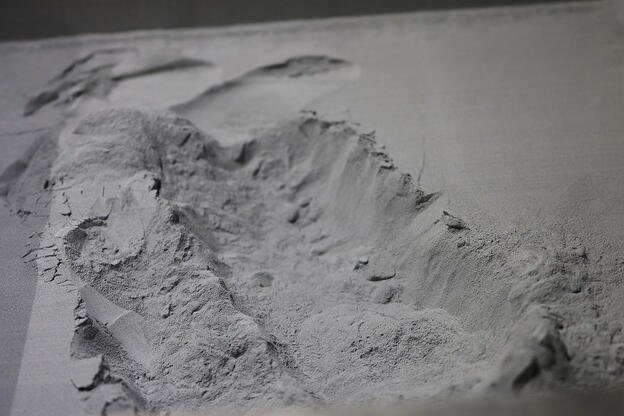 The key challenge in reusing metal feedstock is maintaining consistent material characteristics throughout the build series. In AM processes utilizing high heat, powder can be susceptible to alterations in its base composition, or physical characteristics. These changes could result in a compromised final product, so it is important to monitor powder quality throughout the production run.
There are 4 potential characteristic changes that are most common when reusing metal powders:
Shape: There is a tendency towards a change in morphology from spherical to angular.
Alloy Chemistry: in particular, oxygen concentration.
Particle Size Distribution (PSD): Tendency to PSD tightening due to shifting of smaller particles.
Flow: Increased flow speed can be caused by loss of small particles throughout the build series.
For example, if the PSD is too wide, the smaller particles will sit in the spaces between the larger particles, increasing packing and inhibiting flow. If the PSD is too narrow, this could lead to insufficient packing and pores in the melted part.
Fortunately, there are many testing protocols to enable additive manufacturers to evaluate the potential modifications a powder may go through. IMR's analytical capabilities utilize ISO/ASTM methods to characterize metal powders.
Some of these analytical techniques include:
Sieving
Microtrac (Laser scattering)
Alloy chemistry
Optical and SEM image analysis
Tap density
Carney / Hall flow and density
Various metal powders have different characteristics which will lead to different tendencies for characteristic modifications due to reuse. IMR Test Labs works with many additive manufacturers to help them optimize the effectiveness of their AM feedstock. Click to find out more about our additive manufacturing analytical services. Sources: Understanding the effects of metal powder reuse in laser Powder Bed Fusion, Granger, L.ISO/ASTM 52907:2019