Scanning Electron Microscopy |
SEM Analysis Services
SEM ANALYSIS OF SURFACE CONDITIONS OF METALS, POLYMERS, COMPOSITES
SEM Analysis (Scanning Electron Microscopy) consists of concentrating a focused beam of high-energy electrons, which generates a number of signals at the surface of solid specimens. These signals, which are gleaned from electron-sample interactions, relay important information about the sample, such as texture, microstructure, the processes performed on the material during manufacture, and whether the material meets the needed specifications to ensure optimal durability in the intended application.
SEM is relatively simple to carry out with proper training, and corresponding software can greatly enhance ease of use. Plus, the microscopes used in this process are able to generate data in a sophisticated digital form. SEM analysis is also a relatively fast method.
EDS analysis is used to supplement the high resolution, high depth of field images with as elemental analysis of the materials in the image field.
Click here to request a quote, or on the button below for more information on IMR's SEM capabilities.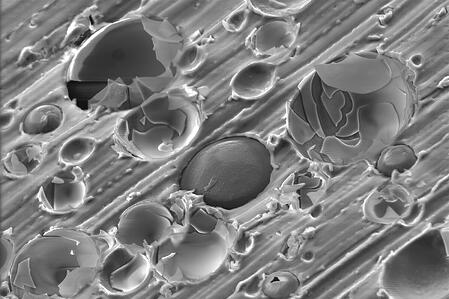 METALLURGICAL LAB SERVICES
Click here for a complete list of accreditations and certifications for all IMR Test Labs locations.