Fracture Toughness Testing Services
FRACTURE MECHANICS MEASURES CRACK PROPAGATION
Fracture mechanics testing can provide quantitative analytical results that aid in predicting crack initiation and crack growth rate.
Our experienced engineers can help with specimen design, fixture creation, and test parameter selection to best assist with fracture mechanic testing needs.
Click here to request a quote, or click on the button below for more information on IMR's fracture toughness testing capabilities.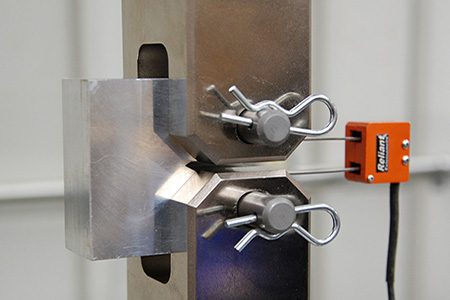 Fracture Toughness Test - Materials Tested
Composites

Polymers

Metals & Non-Metals

Ferrous & Non-ferrous
Fracture Toughness Test - Purpose
Materials that are made, processed, and machined can inevitably introduce a flaw to a finished component.  Flaws can either be harmless or create a potentially unsafe component that becomes a liability.  Fracture mechanics specifically determine if the material or component is more susceptible to cracking.
Fracture toughness testing provides the following insight into the relationship between 
applied loading

environmental factors

presence of cracks and crack-like defects

physical properties of the material used in components
Fracture Toughness Test - ASTM Standards
IMR Test Labs offers accredited testing to:
ASTME E399 (K1c)

ASTM E1820 (J1c)
Fracture Toughness Test - Specimen Parameters
Compact Tension (CT) 
Middle Tension (MT)
Single-Edge Notched Tension (SENT)
Single-Edged Notched Bend (SENB or three-point bend)
Extended Compact Tension (ECT)
Centre Cracked Tension (CCT)
Surface Cracked Tension (SCT)
Composite Materials under modes l, ll, and lll loading
Fracture Toughness Test - Benefits
Determine Most Suitable Material 
With fracture toughness test results, manufacturers can make side-by-side comparisons of data in order to determine which material is best suited for their application.
Determine Longevity of Material 
Fracture toughness reveals which materials are able to last longer under stresses without cracking and whether those materials are able to contribute to the overall longevity of the mechanical component. 
Determine Safety of Material
Components that fail due to cracking are extremely hazardous and can cause extensive damage to both the overall machine or unit and those who are using it.  Determining which material is the safest through fracture toughness testing is of paramount importance. 
Cost Savings
Using the best-suited material for an application contributes to overall cost savings, as replacement materials, repairs, and downtime are no longer potential factors. 
Combined Testing Procedures
Fracture Toughness Testing can be used together with many other types of mechanical testing, in order to create an overall picture of a material.  Other tests include corrosion testing, fatigue testing, failure analysis, and more.