Taber Abrasion Testing Services
TABER ABRASION TESTING TO EVALUATE WEAR CHARACTERISTICS OF COATINGS AND MATERIALS
A typical Taber abrasion test consists of a disk-shaped specimen that is placed in constant contact with abrasive wheelS, using predetermined forces to a specified number of cycles to determine wear. The most commonly used standards for these tests are: ASTM D4060, ASTM F1978-12 and MIL-A-8625.
Taber abrasion is a quick and simple way to measure wear resistance and offer sufficient comparable data at a reasonable price. It gives a side by side comparison of several materials or coatings, so you can evaluate which material has better wear resistance under simulated, accelerated wear conditions.
IMR performs a large variety of physical, mechanical, and chemical testing methods to help manufacturers in the aerospace, transportation, and medical device industries verify material properties for critical applications.
For more information on our polymer testing capabilities, click here to request a quote, or click the button below.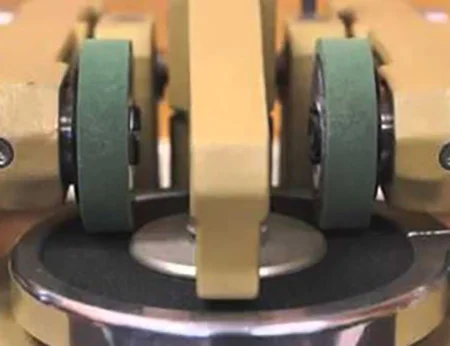 Click here for a complete list of accreditations and certifications for all IMR Test Labs locations.