IMR Materials Testing Technical Blog
December 17, 2021
|
|
BLOG
ASTM Tensile Testing Standards for Determining Material Properties under Load
The basic process of tensile testing relies on a material sample attached to a fixture that applies a tension load until failure. The following five methods are primarily material-specific, and the ASTM methods noted are a basic guide for selection based on material classification.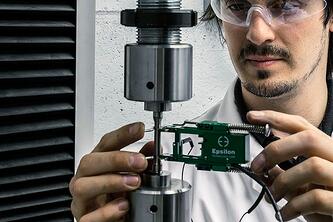 Properties measured by tensile testing methods:
Ultimate Tensile Strength
Tensile Yield and Elongation
Modulus of Elasticity
Poisson's Ratio
Tensile Testing of Metals
ASTM E8 / E8M is one of the most common test methods for determining the tensile properties of metallic materials, with the other being ASTM A370. These tests are performed on a variety of sample types, including cast iron bars, metal wire, specialty metals, tubes, and welded samples. These methods cover the tension testing of metallic materials in any form at room temperature, and measure yield strength, yield point elongation, tensile strength, elongation, and reduction of area.
Non-Ambient Temperature Tensile Testing
The elevated-temperature tension test provides an assessment of the ability of metals to withstand the application of applied tensile forces, replicating in-service conditions that include high heat. The ASTM E21 standard's principal utility is to assure that the tested material characteristics compare meets specifications for extreme environments. Conversely, materials exposed to cryogenic conditions, can be tested down to -320°F.
Bond Strength Testing
Bond Strength (or Pull-off Adhesion testing) measures the resistance of a coating to separation from a substrate when a perpendicular tensile force is applied. Coated substrates typically include metals, plastics, concrete, wood and glass. The ASTM C633 standard can be utilized for the testing of coatings applied by thermal spray in the form of wire, rod, or powder. These applications include plasma arc, two-wire arc, and high-velocity oxygen fuel processes for spraying feedstock.
Polymer Tensile Testing
ASTM D638 is performed by applying a tensile force to a reinforced or non-reinforced plastic sample specimen and measuring various properties of the specimen under stress. Labs that are climate controlled are preferred testing facilities so that the plastic samples characteristics aren't subject to variations in ambient temperature or humidity.
Composite Tensile Testing
The widely-used standard for tensile testing composite materials, ASTM D3039, applies only to those composites that are comprised of a polymer matrix reinforced by high-modulus fibers. Tensile tests are also performed on resin-impregnated bundles of fibers ("tows"), through specimens cut from thick sections of laminates, and sandwich core materials.
Summary
Tensile strength is a critical property of component design, product development, and failure analysis. Data provided by the tensile test can assist in:
Determining batch quality
Measuring manufacturing consistency
Aiding in the design process
Reducing material costs
Ensuring compliance with industry standards