IMR Tensile Testing Laboratories perform a test in which controlled tension is applied to a sample material until it fully fails, in order to analyze material strength.  Tensile testing is a form of mechanical testing, and provides valuable data about candidate materials, including ultimate tensile strength, yield strength, elongation, and reduction in area.  Young's modulus and Poisson's ratio are discovered through tensile testing. 
Tensile testing can be performed on the following materials:
Metals

Polymers

Coatings

Fiber- Reinforced Composites
For materials being utilized in extreme temperature environments, a full array of cryogenic and high-temperature testing applications are required. Accurate non-ambient testing data is determined with our regularly calibrated equipment.
Our mechanical testing lab also has the support of our experienced machine shop.  These machinists have decades of experience working with materials in all forms and can efficiently machine samples from bar stock, sheets, forgings, finished products, and nonmetallic materials.
To learn more about our capabilities, click on the link below, or request a quote today.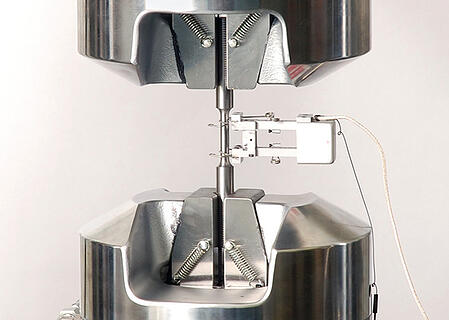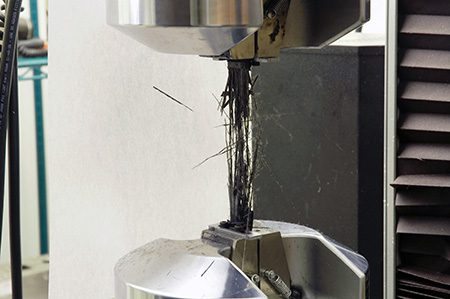 We have tensile frames capable of testing up to 160,000 lbs. on a variety of sample types, including cast iron bars, metal wire, music wire, specialty metals, tubes, and welded samples.
TENSILE TESTING-
COMPOSITES/POLYMERS
Our Ithaca, NY location offers tensile testing of polymers from (-240ºF to 660ºF). Our polymer lab is climate controlled and can condition your specimens before testing.
TENSILE TESTING-
BOND STRENGTH
All IMR labs offer accredited bond strength tensile testing for coating evaluations, critical to the aerospace industry. Our Ithaca, NY lab offers a standard one-day turnaround on this service.
IMR provides a wide array of non-ambient temperature tensile testing of metals from -340°F to 2100ºF. Testing predicts how materials will perform under extreme in-service conditions.
Tensile Testing Services- FAQ
Tensile testing can typically be performed in a couple of days.
Tensile testing is performed to ASTM standard E8.  This standard regulates reduction of area, elongation, tensile strength, yield point elongation, and yield strength. 
Properties that are directly measured via a tensile test are 
Ultimate tensile strength
Breaking strength
Maximum elongation
Reduction in area
Tensile testing allows the user to determine whether or not the material they are testing is strong enough to withstand certain conditions, is the right material for the application they are using it for, and whether a different material should be considered.  
MECHANICAL TESTING SERVICES
Abrasion (Taber)
Adhesion (Peel) Testing
Bend Testing
Bond Strength Testing
Charpy Impact Testing (-320°F to 450°F)
Climbing Drum Adhesion of Sandwich Composites
Coating Adhesion
Coating Shear Fatigue
Coefficient of Thermal Expansion by TMA
Composite Testing (Fiber Reinforced)
Compression Set
Compressive Properties
Core Shear Properties of Sandwich Construction by Beam Flexure
Creep and Stress Rupture Testing
DMA (Dynamic Mechanical Analyzer)
Ductility
Elastic Modulus
Fatigue Testing
Filled Hole Tension & Compression
Flattening
Flat-wise Tensile Testing
Flexural Properties
Floating Roller Peel Strength
Fracture Mechanics
Gel Time
Hardness (Rockwell, Brinell, Durometer, Shore, Barcol, Knoop, Vickers, Macro Vickers)
Heat Aging
Heat Deflection by TMA
Heat Treatment (furnace to 2100°F)
Hydrogen Embrittlement
Hydrostatic Pressure
Indentation Toughness
Interlaminar Shear
Jominy Hardenability
Lap Shear Testing
Machining & Specimen Preparation
Materialography
Modulus of Rupture (MOR)
n-Value (Strain Hardening Exponent)
Open Hole Tension and Compression
Pipeline Integrity Testing
r-Value (Plastic Strain Ratio)
Residual Strength of Composites After Impact
Rotating Beam Fatigue
Shear Testing of Rivets to ASTM B565, Single/Double
Short Beam Strength
Shot Peen Qualification
Single-Edged Notched beams (SENB)
Slow Strain Rate (G129)
Specimen Conditioning
Strain Gaging
Surface Roughness (ANSI/ASME B46.1)
T Peel Strength
Tear Resistance of Films & Sheeting
Tear - Rubbers & Elastomers
Tensile Testing
Torsional and Axial Fatigue (200 lb)
Tube Testing (Tensile, Flare, Hydrostatic)
Welder & Procedure Qualification
Wire/Spring Testing (Wrap, Coil, Bend)
Young's, Tangent and Chord Modulus (Room Temperature)
Young's, Tangent and Chord Modulus (Room Temperature)
ASTM TENSILE TESTING STANDARDS
ASTM A48
ASTM A370
ASTM B557
ASTM C633
ASTM C297
ASTM C297M
ASTM D3039
ASTM D3039M
ASTM D3359
ASTM D3575 (suffix T)
ASTM D412ASTM D5766
ASTM D638
ASTM D6742
ASTM D6742M
ASTM D882
ASTM E8
ASTM E8M
ASTM E21
ASTM E111
ASTM E345
ASTM F606
ASTM F606M
ASTM F1147
...and more.
Click here for a complete list of accreditations and certifications for all IMR Test Labs locations.