MICROHARDNESS TESTING USING KNOOPS AND VICKERS METHODS
Microhardness testing utilizing the Vickers method utilizes a diamond indenter to make an indentation within a series of light load specifications (ASTM E-384) . The measurements are converted into a hardness value, which is useful for testing a wide range of materials.
The Knoop microhardness test measures mechanical hardness, and is used mostly for very brittle materials or thin sheets, where only a small indentation may be made for testing purposes. This testing is especially useful for alloy steels and irons or where testing for near surface hardness is needed.
IMR's metallurgical analysis team performs microhardness testing for manufacturers and their suppliers to verify material properties. For more information on our capabilities, click here to request a quote, or click on the button below.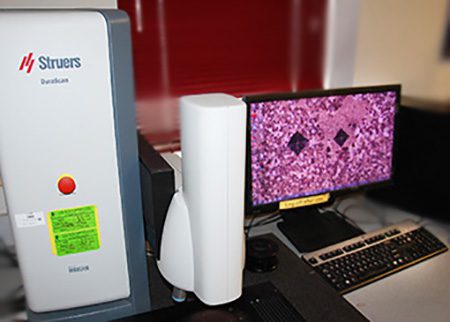 METALLURGICAL LAB SERVICES
Alpha Case
Carburization
Case Depth
Certified Weld Inspections
Coatings Evaluations
Coating Thickness by SEM, Cross Section
Case Depth
Depth of Decarburization
Determination of Delta Ferrite Content
Determination of Volume Fraction by Point Count
Effective Case Depth
Failure Analysis
Fastener Discontinuities
Fluorescent Impregnation of Porous Coatings
Fractography
Fracture Mechanics
Grain Size
Inclusion Content/Rating
Intergranular Attack
Intergranular Oxidation
Light Microscopy - Macro, Micro & SEM Photography
Machining Evaluations
Macroetching
Microetching
Microhardness (Knoop, Vickers, MacroVickers)
Microstructure
Orientation in Microstructure
Particle Analysis (Distribution, ID, Size)
Phase Volume Determination
Pipeline Integrity
Plating Evaluations
Plating Thickness
Porosity of Metals, Ceramics & Composites
Prior Austenitic Grain Boundary Determination
Replication (ASTM E1351)
Quantitative Image Analysis
SEM-EDS
Surface Evaluation (Dubpernell Active Site Test ASTM B456 Appx 4)
Surface Topography
Thermal Spray Coating Analysis
Titanium Beta Transus Determination
Weld Qualification & Testing
RELATED HARDNESS TESTS-METALS
Brinell Hardness (500, 1000, 1500, 3000Kgf)
Rockwell Hardness (A, B, C, F, L, 15N, 30N, 45N, 15T, 30T, 45T, E, 15Y) 
Knoop Microhardness (10-1000gf)
Macro-Vickers Microhardness (1-10kg)
Vickers Microhardness (10-1000gf)
RELATED HARDNESS TESTS-NON-METALLICS
Barcol Hardness
Durometer Hardness Test/Shore Hardness (A, D, M)
Rockwell Hardness (E, R, L, M) Non-conditioned lab
Click here for a complete list of accreditations and certifications for all IMR Test Labs locations.