IMR Materials Testing Technical Blog
December 20, 2021
|
|
BLOG
Additive Manufacturing Powder and Component Testing Methods
Leveraging our extensive experience in providing testing and analyses for additive manufacturers and their suppliers, we've compiled a comprehensive guide that delivers real-world information that can be used to determine what tests are needed to determine your materials characteristics.
While the rapid growth of additive manufacturing (AM) technology has helped engineers in many industries create innovative new component designs, the unusual nature of the necessary raw materials and the resulting printed structures has created significant materials testing challenges.
With new frontiers of complexity, materials, and applications, many additive manufacturing (AM) challenges are being overcome through the use of materials testing and analysis. This starts with the need for well characterized raw materials such as powders, pastes, and wires. SLS powders especially need continual testing due to the need to reuse unsintered powder without affecting the end product.
For example, in testing the raw powder's chemical structure, these are some of the tests that can be applied:
ICP-Atomic Emission Spectroscopy
ICP-Mass Spectrometry
Combustion and Inert Gas Fusion
C, S, N, O, H
OES
FTIR
The quality of the finished part requires the analysis of a wide array of properties, based not only on the parts application, but the AM process being used as well. These are some of the tests used to measure a finished product's mechanical properties:
Tensile – Yield – Elongation
Compression
Impact
Fatigue
– Axial
– Rotating Beam Fatigue
Fracture Toughness
Due to the exponential growth of additive manufacturing over the last several years, IMR Test Labs has invested in additional equipment, technology and experienced technicians to meet our customer's needs.
We've expanded our capabilities in raw material characterization and finished product metal testing & analysis to help manufacturers quickly and accurately make important evaluations in their products design,  development and production phases.  IMR's increased efficiencies and dedicated resources to help our AM customers get quicker turnaround on quotes and jobs.
For more information on IMR's Additive Manufacturing Testing capabilities, click here.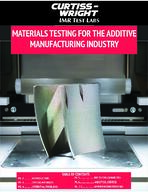 To download the complete version of our eBook "Materials Testing for the Additive Manufacturing Industry", click here