ION CHROMATOGRAPHY TESTING OF HALOGENS AND IONS IN AQUEOUS SOLUTION
Ion Chromatography (IC) is an analytical technique that permits the dynamic separation and detection of anions in a solution. Aqueous samples are introduced through a sipper onto the column of the IC. Components with a higher affinity are retained longer than those with little or no affinity. A detector at the end of the column measures the eluate as it exits the column.
Ion chromatographs are able to measure concentrations of major anions, such as fluoride, chloride, nitrate, nitrite, and sulfate, as well as major cations such as lithium, sodium, ammonium, potassium, calcium, and magnesium in the parts-per-billion (ppb) range.
IMR's Ion Chromatography Testing lab measures concentrations of ionic species by separating them based on their interaction with a resin. Ionic species separate differently depending on species type and size. If you're interested in exploring IMR's testing capabilities, click here to request a quote, or click on the button below.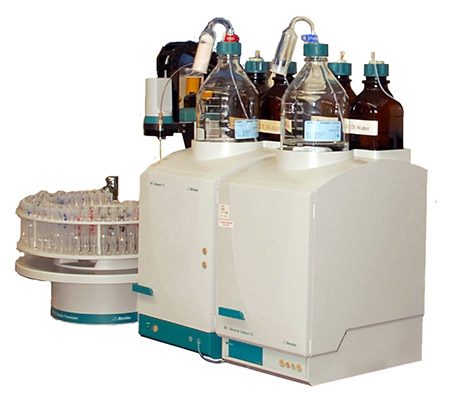 Alloy Chemistry
Antimony Analysis (ICP)
Cadmium Analysis (ICP)
Carbon, Sulfur, Hydrogen, Oxygen  & Nitrogen
Contaminant/ Corrodent Analysis 
Filler/Additive Analysis
FTIR
Contamination ID
Halogen Analysis (IC)
Heavy Metals Analysis
Hex Chrome (UV-VIS)
ICP-AES Analysis
ICP-MS Analysis
Impurities Analysis
Ion Chromatography
Material Certification
Metal Purity
OES Analysis
On-site PMI
PMI Testing (Positive Material ID)
Particle Size Analysis
Percent Crystallinity
pH
Polymer Testing
Powder Diffraction
Powdered Metal Analysis
Precious Metal Assay
Quantitative Analysis
Resistivity (ASTM D1125)
SEM-EDS
Semi-Quantitative Analysis
Trace Element Analysis
Unknown Alloy Identification
Unknown Material Identification
XRD Analysis
XRF Analysis
Fluoride (F-)
Chloride (CI-)
Bromide (Br-)
Nitrate (NO2-)
Nitrite (NO3-)
Sulfate (SO4-2)
Phosphate (PO4-3)
Iodide (I)
Acetate (CH₃COOH)
Formate (CH₂O₂)
Click here for a complete list of accreditations and certifications for all IMR Test Labs locations.