OES ANALYSIS AND PMI OF ALUMINUM, IRON, NICKEL, COBALT, COPPER AND TITANIUM ALLOYS
OES analysis (Optical Emission Spectroscopy) uses quantitative measurement of the optical emission from excited atoms to determine analyte concentration.  A solid sample is atomized by an arc-spark discharge which provides sufficient energy to promote the electrons of atoms into high energy levels. 
The intensity of the light, which is proportional to the concentration of the element in the sample, is recalculated internally from a stored set of calibration curves and is shown directly as percent concentration of the element. 
IMR's OES analysis services enables manufacturers and their suppliers to verify their materials composition. All analyses are NIST traceable through the use of certified reference materials. Typically element concentrations are reported to 0.01 wt%, however in some cases trace elements can be analyzed to ppm levels.
If you're interested in exploring IMR's capabilities for chemical analysis, click here to request a quote, or click on the button below.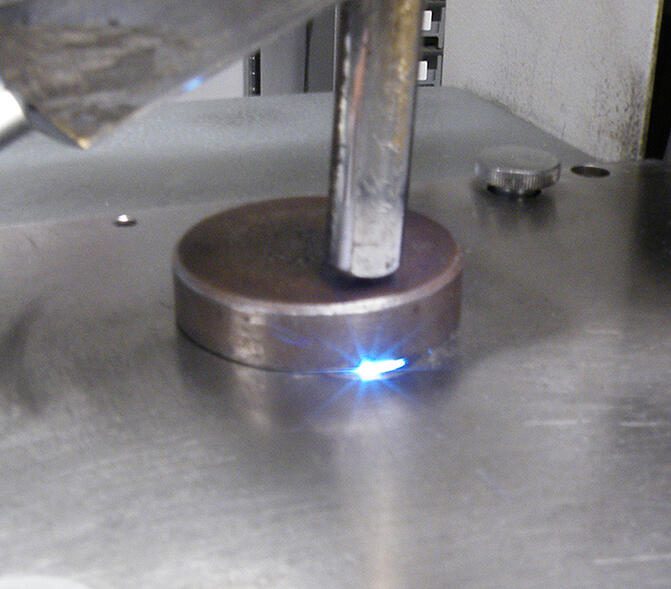 Alloy Chemistry
Antimony Analysis (ICP)
Cadmium Analysis (ICP)
Carbon, Sulfur, Hydrogen, Oxygen  & Nitrogen
Contamination ID
Contaminant/ Corrodent Analysis 
Filler/Additive Analysis
FTIR
Halogen Analysis (IC)
Heavy Metals Analysis
Hex Chrome (UV-VIS)
ICP-AES Analysis
ICP-MS Analysis
Impurities Analysis
Ion Chromatography
Material Certification
Metal Purity
OES Analysis
On-site PMI
PMI Testing (Positive Material ID)
Particle Size Analysis
Percent Crystallinity
pH
Polymer Testing
Powder Diffraction
Powdered Metal Analysis
Precious Metal Assay
Quantitative Analysis
Resistivity (ASTM D1125)
SEM-EDS
Semi-Quantitative Analysis
Trace Element Analysis
Unknown Alloy Identification
Unknown Material Identification
XRD Analysis
XRF Analysis
Click here for a complete list of accreditations and certifications for all IMR Test Labs locations.
ASTM E 415 – Low Alloy and Carbon Steels
ASTM E 1251 – Aluminum Alloys
ASTM A 751 –  400 Series Stainless Steels
ASTM E 1086  – 300 Series Stainless Steels
ASTM E 1999 - Cast Irons (PTL)