METALLURGICAL ANALYSIS AND ADVANCED METALLOGRAPHIC TECHNIQUES
Metallurgical analysis reveals the microstructural condition and makeup of your materials with macro, micro and SEM examinations. Along with microstructure, these analyses reveal information on processes performed on the material during manufacture and whether or not the materials meet the required specification(s) to ensure durability in the intended use.
IMR's highly-trained lab technicians prepare your sample with advanced metallographic  polishing techniques, leading to accurate analyses of base metal, alloy or coating. Our team of metallurgists, engineers, and technicians utilize state-of-the-art equipment, as well as decades of experience.
IMR's metallurgical lab technicians provide the images and data needed on even the most challenging samples.  See our specialty preparation list below, or call us today to talk about your project with one of our metallurgists.
Our facilities offer a wide range of testing from routine microstructures and microhardness surveys, to unique studies including electrochemical corrosion simulations, mercurous nitrate testing and more. Learn more about our metallurgical labs below or request a quote today.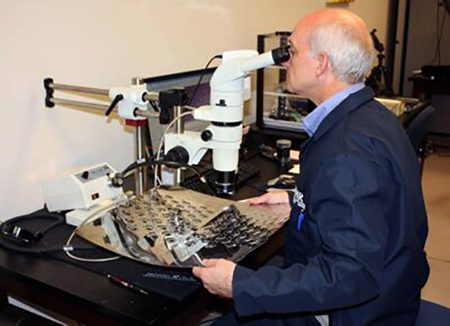 Need production support or routine testing? Microstructures, coatings evaluations, hardness surveys and more are available. Most jobs can be turned around in three days or less and we have special pricing for routine work. You get the same high-quality results and reports fast.
Is your internal lab at capacity? Qualify one of IMR's labs as your backup when the internal lab can't meet your deadline.  Most of our routine testing is handled in three days or less, getting you results when you need them.  Expedited services are also available
Are you importing materials from overseas? IMR has labs in Singapore and China to provide material verification wherever your suppliers are.  All of IMR's labs operate under the same quality system, guaranteeing uniform results from all our labs. 
Need support for your R&D efforts? Need to compare and contrast materials and/or processes? We offer aggressive machining evaluations, thermal spray coatings evaluations, corrosion evaluations and comparative material analyses.  Our reports are clear and concise, providing you side by side results so you can make informed business decisions and determine how comparable different materials, lots or manufacturers are.
Have failed parts? Our failure analysis group offers insight into methods of failure and possible causes. They provide clear, concise reports explaining the step-by-step investigation, findings, causes and high-quality color images. With the support of our non-metallics failure analysis group, we are prepared to analyze your mixed material failures.
Our highly trained staff can also provide litigation support including expert witness testimony, witnessed testing and technical disposition.
METALLURGICAL EVALUATION LAB SERVICES
Alpha Case
Carburization
Case Depth
Certified Weld Inspections
Coatings Evaluations
Coating Thickness by XRF, SEM, Cross Section
Case Depth
Depth of Decarburization
Determination of Delta Ferrite Content
Determination of Volume Fraction by Point Count
Effective Case Depth
Failure Analysis
Fastener Discontinuities
Fluorescent Impregnation of Porous Coatings
Fractography
Fracture Mechanics
Grain Size
Inclusion Content/Rating
Intergranular Attack
Intergranular Oxidation
Light Microscopy - Macro, Micro & SEM Photography
METALLURGICAL CORROSION INVESTIGATION
Corrosion Failure Analysis
Dezincification Testing
Electrochemical Corrosion Testing
Environmental Stress Cracking (ESC)
Formicary (Ant's Nest) Corrosion Evaluation
General and Pitting Corrosion Testing
Heat & Fluid Aging
Mercurous Nitrate Testing
Machining Evaluations
Macroetching
Microetching
Microhardness (Knoop, Vickers, MacroVickers)
Microstructure
Orientation in Microstructure
Particle Analysis (Distribution, ID, Size)
Phase Volume Determination
Pipeline Integrity
Plating Evaluations
Plating Thickness
Porosity of Metals, Ceramics & Composites
Prior Austenitic Grain Boundary Determination
Replication (ASTM E1351)
Quantitative Image Analysis
SEM Analysis
Surface Evaluation (Dubpernell Active Site Test ASTM B456 Appx 4)
Surface Topography
Thermal Spray Coating Analysis
Titanium Beta Transus Determination
Weld Qualification & Testing
Passivation Testing of Medical Components
Potentiodynamic Corrosion
Residual and Assembly Stress Testing of Copper Alloys
Sensitization Testing
Stress Corrosion Cracking (SCC)
METALLURGICAL LAB SPECIALTY MATERIAL PREPARATION
Techniques
2 and 3 part Chemical Etching
AC Electrolytic Etching
Non-routine DC Electrolytic Etching
Vibratory Polishing
Commercially Pure and Medical Grade Titanium Alloys
Beryllium and Alloys
Antimony
Bismuth
Cadmium
Indium
Thallium
All High Purity Metals
Aluminum
Cobalt
Iron
Nickel
OFE Copper
Platinum Metal Group & Alloys
Iridium
Osmium
Palladium
Platinum
Rhodium
Ruthenium
Refractory Pure Metals and Alloys
Chromium
Molybdenum
Rhenium
Tantalum
Tungsten
Vanadium
Odd Metals and Alloys containing significant amounts of
Lead
Magnesium
Manganese
Tin
Zinc
Precious Metals and Alloys 
Gold
Silver
Ceramics
Boride
Nitride
Oxide
Specific Difficulty
6061 Al Grains
Elgiloy
FSX414
Inconel 625
Haynes 25
Haynes 188
L605
Nitinol
Stellites
X-40
Very Difficult
Hafnium
Niobium
Zirconium