HARDNESS TESTING SERVICES INCLUDING ROCKWELL, BRINNELL, VICKERS, KNOOP METHODS
Hardness testing is a basic mechanical test used to verify that raw materials meet specifications, or it can be used as a quick check for materials that aren't performing as expected.  Hardness tests quantify the resistance of a material to plastic deformation and are available as microindentation or macroindentation.
IMR offers several materials hardness testing options:
Rockwell, Brinell (on metals)
Macro Vickers, Vickers, Knoop (microhardness)
Barcol, Durometer, Shore (on polymers and composites)
The primary purpose of hardness testing is to determine if a material is suitable for a given application, or the particular treatment to which the material has been subjected.
To learn more about our hardness testing capabilities, click on the link below, or request a quote today.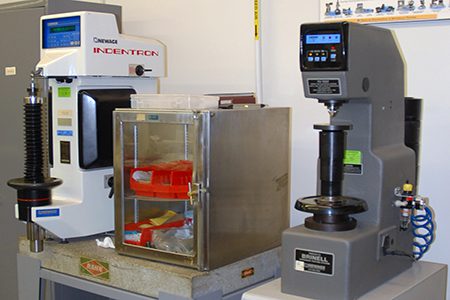 MECHANICAL TESTING METHODS
Abrasion (Taber)
Adhesion (Peel) Testing
Bend Testing
Bond Strength Testing
Charpy Impact Testing (-320°F to 450°F)
Climbing Drum Adhesion of Sandwich Composites
Coating Adhesion
Coating Shear Fatigue
Coefficient of Thermal Expansion by TMA
Composite Testing (Fiber Reinforced)
Compression Set
Compressive Properties
Core Shear Properties of Sandwich Construction by Beam Flexure
Creep and Stress Rupture Testing
DMA (Dynamic Mechanical Analyzer)
Ductility
Elastic Modulus
Fatigue Testing
Filled Hole Tension & Compression
Flattening
Flat-wise Tensile Testing
Flexural Properties
Floating Roller Peel Strength
Fracture Mechanics
Gel Time
Hardness (Rockwell, Brinell, Durometer, Shore, Barcol, Knoop, Vickers, Macro Vickers)
Heat Aging
Heat Deflection by TMA
Heat Treatment (furnace to 2100°F)
Hydrogen Embrittlement
Hydrostatic Pressure
Indentation Toughness
Interlaminar Shear
Jominy Hardenability
Lap Shear Testing
Machining & Specimen Preparation
Materialography
Modulus of Rupture (MOR)
n-Value (Strain Hardening Exponent)
Open Hole Tension and Compression
Pipeline Integrity Testing
r-Value (Plastic Strain Ratio)
Residual Strength of Composites After Impact
Rotating Beam Fatigue
Shear Testing of Rivets to ASTM B565, Single/Double
Short Beam Strength
Shot Peen Qualification
Single-Edged Notched beams (SENB)
Slow Strain Rate (G129)
Specimen Conditioning
Strain Gaging
Surface Roughness (ANSI/ASME B46.1)
T Peel Strength
Tear Resistance of Films & Sheeting
Tear - Rubbers & Elastomers
Tensile Testing
Torsional and Axial Fatigue (200 lb)
Tube Testing (Tensile, Flare, Hydrostatic)
Welder & Procedure Qualification
Wire/Spring Testing (Wrap, Coil, Bend)
Young's, Tangent and Chord Modulus (Room Temperature)
RELATED HARDNESS TESTS-METALS
Brinell Hardness (500, 1000, 1500, 3000Kgf)
Rockwell Hardness (A, B, C, F, L, 15N, 30N, 45N, 15T, 30T, 45T, E, 15Y)
Knoop Microhardness (10-1000gf)
Macro-Vickers Microhardness (1-10kg)
Vickers Microhardness (10-1000gf)
RELATED HARDNESS TESTS-NON-METALLICS
Barcol Hardness
Durometer Hardness Test/Shore Hardness (A, D, M)   
Rockwell Hardness (E, R, L, M) Non-conditioned lab
RELATED HARDNESS TESTING SPECIFICATIONS
ASTM A370
ASTM B578
ASTM D2240
ASTM D2583
ASTM E10
ASTM E18
ASTM E384
ASTM F606 / F606M
ISO 868
SAE J429
SAE J995
...and more
Click here for a complete list of accreditations and certifications for all IMR Test Labs locations.